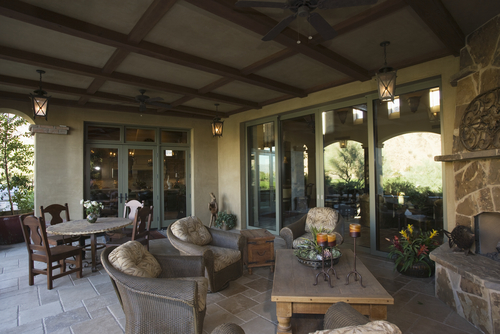 Spring is in full beautiful bloom and soon we'll be sliding right into the glorious days of summer. And with those long days come lazy afternoons, easy evenings and leisurely nights, all of which make summer perfect for outdoor living. And that ties right in with one of design's most current trends: bringing the indoors outside.
Today, more people are taking advantage of this trend, and why not? It's a great way to spend social time, and an equally great way to spend some much needed private time. Plus, there's just something about being outside, surrounded by nature's beauty that just lift your spirit – at least I know it does mine!  This time of year, I often want to spend every minute I can outside, and I think that's exactly as it should be.
Over the years, in MY piece of the great outdoors, aka: my backyard, I've noticed that our time usually centers around eating and seating – celebrating a special event with food, or just enjoying a relaxing evening and conversation with friends and family. And, of course, we could never leave out the backyard pool. When planning outdoor spaces with a client, I start in the same way outside as I do inside – with function first. Aesthetic comes second (a very important second) but how the space outside will be used must come before anything else.
FIRST: SOME KEY QUESTIONS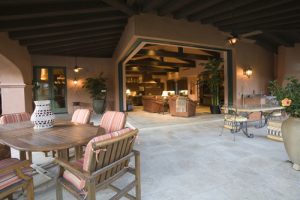 What's on your wish list?
How large is your outdoor space?
What are your priorities?
Some clients tell me they want an outdoor kitchen; others say an outdoor living room tops their wish list with a grand space to entertain large groups of 30, or a smaller more intimate space for close family and friends; while one client told me all she wanted was a quiet spot to read. And of course, some want all of the above. I like knowing their wish list first…the available space, and then I'll ask them to prioritize. Why? Well, think about it. In our homes we have many different rooms, but outdoors we usually have one major space. It's crucial to define what you want most in order to get the most out of that limited space. Not just that, knowing how my clients intend to use the space impacts every other decision we'll make from furniture to fabric, to open air seating and covered areas, and so much more.
AND NOW FOR SOME BEAUTY AND AESTHETICS
Let me ask you a question. I think it's a trick question actually. What can compete with the glorious colors and intricate patterns of nature? The answer. Actually, nothing! And, so I don't.
Instead of competing, I complement. My personal design style is using a neutral pallet for the main pieces then adding in a small surprise of color, or a subdued pattern, somewhere…maybe on a pillow, or table runner. But it's all anchored on a neutral that won't fight with the wonderful natural backdrop of being outside.
I'm a big fan of contrasts so wood (as in furniture) on wood (meaning the deck) would not be my choice. Instead I'd go for a wrought iron, or high quality wicker, or cast aluminum. And for a classic look, you simply cannot beat a couple of teak Adirondack chairs – whether oiled or natural – sitting out on the grass. Such handsome beauty amidst a sea of green!
And I love soft lighting; the sight of candles scattered everywhere and anywhere always seems to take my breath away, and even for just a quick moment, it gives me pause. And when I want to stretch out the already long days, I bring "out" some wonderful strands of light – they really do help leisurely afternoons flow effortlessly into restful evenings.
Now, I know what all our dermatologists tell us, no tanning allowed! (Or at least use an SPF 15 and reapply OFTEN.) But I also know a lot of us like to read outside, and the VERY honest among us will also admit to "getting a little sun" (once or twice at least) and for that, a chaise is the perfect choice – for some. For others, like my daughter Stephanie, a hammock is the only way to go, and it turns out there are some terrific ones on the market now. Personally, I love those big patio swings that are almost like an outdoor bed. When we go to the mountains, there's nothing more relaxing for me than a swing chair, a cup of coffee and a beautiful view. Drinking in not just my coffee but also the beauty of the natural view right in front of me is my favorite alone time.
CAUTION: SUMMER'S BRIGHT SUN IS NOT A BFF OF YOUR FABRICS!
An absolute essential for outdoor living is a Sunbrella fabric, or at least a fabric protector. Our sun down here in the South (I KNOW you read that with your best Southern drawl) and elsewhere, too, I'm sure, will bleach your fabrics out in no time; you might not even get a season out of them. Necessary? You bet. Worth the investment? Absolutely.
THE TRENDS
1. Let's start right off with one that I'd love to try very soon: movie nights. Rent a screen, set out some chairs, lounge chairs, and picnic blankets and have family and friends over. What a fun way to spend a summer night!
2. Upgraded outdoor cooking: brick ovens, grills, and beautiful, full kitchens are making their presence known. And doesn't it just make so much sense? It's so much easier enjoying time outside when you're not always heading back inside for a forgotten condiment, a necessary serving piece, or to refresh the ice bucket.
3. Covered areas: From personal experience, I love a covered outdoor space. Free from mosquitoes and other annoying creatures, the scorching heat and blinding sun of a Southern summer afternoon, yet still open to the fresh air and an unobstructed view of God's glorious creation.
TRANSITIONING: INSIDE TO OUTSIDE
Here's an idea that I think is brilliant: a moving glass wall system that opens up an entire interior room to the outside. If you love to have large gatherings and parties, and you're ready for a renovation, this is definitely something to consider. And the scaled back version of this idea works beautifully, too: double glass doors are great because they not only open up the party (and the view), they end that bottleneck that happens as people come in and out…single file.
Whether you enjoy your time outdoors in a swing or a hammock; celebrating with a large group of family and friends; in a quiet covered, reading spot; or on a blanket spread out gazing at the moon, enjoying life outdoors amid our lush greenery and trees in a springtime treat that you can make last all summer long!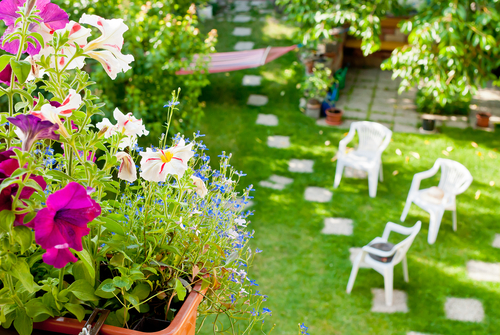 And next month I'll talk about outdoor entertaining — in your (newly designed) outdoor space, of course! Contact Valerie Garrett Interior Designs for more ideas!