Last month, when I was writing about outdoor spaces in my newsletter, I promised I'd take this month to talk about outdoor entertaining.  And whether you're doing that entertaining in your (newly designed) outdoor space or in your existing yard, patio or terrace—as long as you are capturing the joys that our long summer days hold—that's all that matters!  What I've always found is that those joys are many (and the times, oh, so memorable) when I take the party out of the house.
Formal or casual, themed or non-themed, I love hosting special occasions outside. It always feels just a little more exciting when I get a chance to create moments outside that usually happen inside.
CASUAL, DELICIOUS FUN
I love a fiesta. And who doesn't love Mexican food? I know not a one! The food and decorations are so bright and so colorful, and though themed, it's also casual. Translation? No formal table linens.  Homemade guacamole, homemade salsa, and how about a fajita or taco bar? Or both? And yes, of course, a pitcher (or two) of ice-y margaritas.
Even if you eat Mexican food all year round (like my family), there's just something so nice about having friends over in your backyard to enjoy this celebration together. I guess that's why we're planning one next month.  And when one person in particular loves to cook…well, how lucky do we all get? We have a friend who's leading the charge this time because she has a special dish that she loves making – Mexican Corn and Fajita Tacos.  And I know we'll all be in for a treat by the way my mouth was watering just listening to her describe it.
We're letting her set the tone, and the rest of us will follow along.  Those who know me will smile when I say this: contrary to my normal where I like everything to blend, this time I'll be staying true to the bright and colorful traditions—bright flowers in the vases, bright linens on the table, and big sombreros for the bright mood.  Music? You know there'll be mariachi music playing from the moment everyone walks in until that last plate is cleared.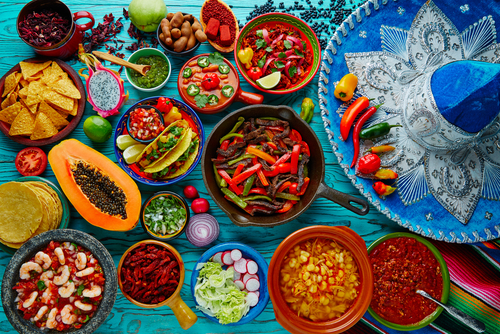 TIP:  I LOVE bringing indoor furniture outside.  What's better than having your farmhouse table all set up outside on the grass?  It adds "the special."  No farmhouse table? No worries: bring your breakfast table and chairs outside!
FOR ALL THE SOUTHERN LADIES
I love all things Southern. I do. There's so much to love. And here's a tip for summertime entertaining outdoors in my beloved South: if it's not a pool party, you'll want to do a brunch or an evening dinner.  It can't be too hot.  No one likes to "perspire," even though I call it "glistening" – we're not looking so fresh (and neither is our food).
But oh, a Southern brunch! It can be so elegant. On a lovely Saturday morning you take out your pretty linens, pull out your nice silverware, and set out your fine China and crystal.  Don't all us gals appreciate having our spirits lifted just by seeing all that beauty?
Brunch is a wonderful excuse to get together with your girlfriends. And whether it's several or your one, true BFF, the elegant set up is still the same and still much appreciated. Most of the time I'll send out Evites online, but sometimes, just to make it more special, I'll send out real invitations!  Yes, via the good ole, USPS.

LET'S HEAR IT FOR THE BOYS
Forgive me for generalizing here, but well, doesn't it just seem that sometimes the men seem to be all about the food?  And isn't a fantastic, old-fashioned cook-out often the exact right thing?  Casual: with grilled steaks, baked potato and veggies off the grill. Or maybe Casual-with-a-side-of-Comfort: burgers, hotdogs and potato salad.
I love for everyone to bring their favorite side. It's fun knowing I might be trying a new dessert, or that perhaps I'll experience someone else's new take on a dish (hello, potato salad!) that I've been making one way my whole life.  And for me to hear myself saying, "Oh my gosh, I've got to get this recipe," adds just a little something extra to the party.
Bonus:  Anytime people bring a favorite side means no one's being asked to do too much. The beauty of keeping it simple outside is that it doesn't have to take days and days of planning, or hours and hours of time.
NOT FOR KIDS ONLY
One word defines this kind of outdoor entertaining for me: picnics. How I loved packing up a picnic lunch basket. And even if the destination was just my backyard, my girls loved it. We grabbed a couple of big quilts, the special picnic basket, and some paper plates and napkins-really, it couldn't be simpler. (I wasn't even opposed to using those big red "Solo" cups. I think that was the biggest treat and surprise to my family!) Fried chicken, potato salad, some homemade brownies and chocolate chip cookies—baked that morning.
And the must-haves?
Fresh squeezed lemonade. (Don't ever forget the mason jars!)
Homemade peach ice cream. (Hands down, my mother-in-law's is the best.)
But for me, what was always so precious was how much everyone loved being a Me and All My Girls part of it all.  My girls couldn't wait-first to help, and then to eat all that they'd helped prepare. Now that they're all grown up, when we head out to a weekend on the beach, I'm going to grab those quilts and my basket and ready it for our new time together.
TIP: For evening events, lighting is everything. It sets the whole tone. For beautiful ambient lighting use lots of outdoor lanterns, mixed with some candles and stringed lights—as important for eyesight as much as mood!
AND A SHOUT-OUT TO OUTDOOR MOVIE NIGHT
Haven't done it yet, but I still want to.  Since I didn't get it in during May or June, I've decided to hold off 'til the fall.  And don't think it won't take me all that time between now and then to decide which movie to pick!
GEORGIA FRESH PEACH ICE CREAM
Ingredients:
2 1/2 pounds peaches
1/2 C sugar
1 pint half & half
1 can sweetened condensed milk
1 can evaporated milk
1 tsp. vanilla extract
2 C whole milk
Directions
Puree peaches with the sugar & half/half.
In a one gallon ice cream freezer container, mix together the peach mixture, condensed milk, evaporated milk and vanilla. Pour in enough milk to fill the container to the fill line, about 2 cups.
Follow the manufacturer's instructions to freeze the ice cream.
For a complementary consultation please contact Valerie Garrett Interior Design. We would love to help you with your next design project.