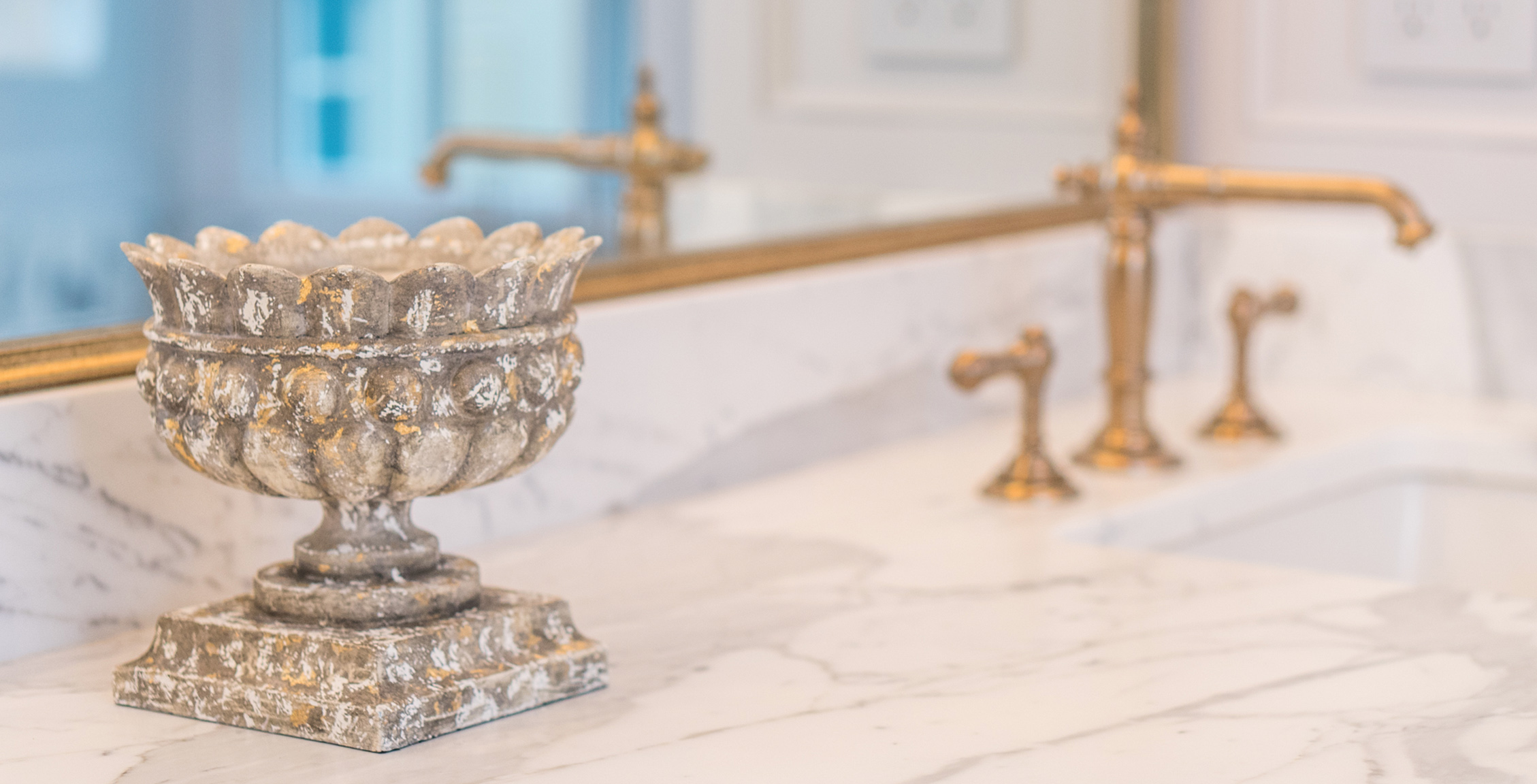 The Simons
Macon, GA
We have lived in our house for 9 years and it has never felt like home until we hired Valerie. Valerie has made it beautiful, comfortable and most important to us, functional for our family. As a family, we now spend more time together in the rooms she has touched because of the changes she made. She not only designs beautiful houses, she will bring the meaning of home back into it.. Thank you Valerie for making our Living room, Keeping room, Kitchen, Powder room and Laundry/Mud room places we love.
Jaime Davis
Forsyth, GA
Working with Valerie is a joy. She listens to what you want to accomplish in your space and is always respectful of your budget. However, she will also tell you if she thinks that something won't look good. She will not tell you an untruth just to keep you "happy." She always thinks outside the box, which I love! For example, I had a hand crafted large iron wall hanging which would not fit in my new house. Valerie put it on the ceiling as a medallion of sorts for a chandelier. It is gorgeous!!!!!
THE ROWLANDS
Warner Robins, GA
Valerie Garrett's designs are timeless and elegant, and her ability to blend traditional contemporary elements makes her one of the most sought out designers in our area. Valerie provided guidance on all interior design matters for an extensive renovation that involved a complete redesign of our home's interior. During this time she helped us choose the flooring, cabinetry, lighting, color schemes, plumbing fixtures, natural stone countertops, furniture, and all other aspects of our interior design project. With Valerie's guidance, our 25-year old home has been transformed to a welcoming and comfortable space where each room flows beautifully and gracefully. Valerie's expertise and ideas captured everything we wanted for our home and more, and we simply can't imagine having done it without her.
Read more
Although the intricacies of design and décor can be overwhelming, Valerie makes the process pleasant and easy with transformative results. She presented 3D renderings of her designs so we would know exactly what each room would look like when finished. Plus, ever organized and efficient, she utilizes and shares computer software that contains the myriad design selections made jointly, so there is never a question as to what product and/or color will go in a particular space.
Throughout our planning sessions and the work that followed, Valerie listened to our ideas, yet she also brought her own thoughts to the table to create the perfect design for our home. Ever mindful of our budgets, she came up with creative solutions that not only kept our costs down, but also helped our home stand out among others. Furthermore, she worked effectively with the contractors and subs and quickly fielded any questions and resolved any minor problems that surfaced. Communication with Valerie was honest, open, and comfortable from the start. We never had to worry about offending or disappointing her when presenting our own ideas. On the contrary, she would listen and develop those ideas into something well beyond our expectations. Plus, she encouraged me to contact her any time I had a question and was quick to respond to phone calls, emails, and text messages. Her patience never faltered!
Throughout the renovation process, Valerie was creative, flexible, reliable and budget conscious. She took the time to understand our style and presented beautiful, high quality custom-designed products that were reasonably priced. Plus, she seamlessly incorporated items we already owned into her plan to create a home that is distinctively unique and personal. We are thrilled with the results Valerie achieved. It is a true testament to her talent that family, friends and guests who visit our renovated home are in awe of the transformation.
Working with Valerie has been a wonderful experience from concept to final product.  Her beautiful and timeless interior design, we wholeheartedly and enthusiastically endorse Valerie Garrett Interior Design.  We feel blessed to have found a truly talented designer and someone we consider a friend.
The Davises
Dublin, GA
We contacted Valerie when we were planning a kitchen and laundry room remodel. After meeting her for the first time, we realized that she was the one who could take our project and run the whole thing. She worked to create and manage a team of professionals from architect to general contractor that made our major renovation such a success. Our small boxed-in kitchen area has turned into a huge amount of open, usable space for our family.
Read more
One of Valerie's talents is that she listens. After questioning my husband and me on our tastes and expectations, she was able to focus in on our design and furnishings very accurately and efficiently and help guide us in making the best decisions. Our new kitchen is absolutely beautiful!
Renovating a home while living in it can be hard but Valerie made it as painless as possible. Our overall experience with her has been so positive that we cannot recommend her highly enough.
The Dumases
Macon, GA
Our kitchen had not seen an update in about 20 years when a damaging water leak forced us to make some changes. We not only needed help to plan a new design, we were looking for someone to oversee the renovation for us. A good friend had highly recommended Valerie Garrett Interior Design which was the perfect solution.
Although we originally planned to renovate only the kitchen, Valerie's suggestion also to include the adjoining laundry and powder rooms added so much to the overall design. Our kitchen has not only been updated, but the new design gives us more room and makes everything more functional.
While very open to our thoughts and suggestions, Valerie used her extensive knowledge, and years of experience to not let us make a misstep in our decisions. She selected excellent companies to execute her design and the renovation, and our project was completed right on time. Using a designer was a new experience for us, and we would definitely recommend Valerie Garrett Interior Design to anyone. We love our new style, and the design is wonderful.
Dawn Nash
Wesleyan College, Porter House
I gladly recommend Valerie Garrett for any kitchen design. Valerie was the selected kitchen designer for a historic house on our campus that was chosen to be the annual Design House offering tours as a fundraiser for our local Historical Society. Valerie created a modern kitchen that was in keeping with the French country style of the home. She provided all new cabinets, lighting, window treatments, natural solid surface counter tops, tile back splashes and focal points, a new stainless refrigerator and gas range with the most beautiful copper hood imaginable. And she was able to get all the different vendors to donate their products so that they could remain in the house after the tours ended. Valerie is easy to work with, and finished all work on time. I highly recommend Valerie Garrett.
Kathy Garrison
Macon, GA
We hired Valerie for a major remodel of our home. We also hired her as Project Manager because we live out of state part time & needed someone to oversee the job daily & handle the problems as they occurred. Our remodel included a new kitchen, travertine floors & new wood floors & refinishing existing wood floors & updating living Room, Powder Rm & complete remodel of master bath with marble flooring & large marble shower with soaking tub. Remodel was very labor intensive & required coordination of multiple contractors, which Valerie handled, along with security of our home. We are very pleased with results & Valerie & her staff.
We would definitely hire her again.
LYNN SNYDER
Macon, GA
My master bathroom was in desperate need of a makeover. It was original to the house which was built in the 1990s. An enormous, never used, jetted tub with a marble master-type finish took up space. The shower stall was pre-fab and cramped. I knew what basic design I wanted but Valerie put it together. She understood my ideas and put the creatives touches on everything keeping in mind my budget. The space has gone from a room I hated to enter to a beautiful, luxurious, spa-like room.
The Johnsons
Valdosta, GA
We were looking for someone to help us decorate our older home that has a "unique" floor plan. A friend suggested we contact Valerie Garrett, Associate ASID, who had done a beautiful job in her home. We were amazed at how easily she was able to take a challenging room and turn it into a work of art. She is very talented, creative and a joy to work with. To date (over 8 years), Valerie has designed almost every room in our home from updating our dining and living room, to complete renovations of bedrooms and bathrooms, and a transformation of our game room into a media center where everyone loves to hang out. She has transformed our house into a home that we are very proud of.
The Sledges
Macon, GA
Working with Valerie Garrett and her team was a very enjoyable and great experience for me and my husband. They were very professional and knowledgeable in choosing the right colors, furnishings and style for our family room and kitchen.
I would highly recommend them for renovations or for building your new home.
The Adkissons
Lake Oconee, GA
We built our home in 1986, and from then until 2006, we had made only minor improvements. In 2007, we undertook major renovations to convert our formal living room and den into a large great room, to give our kitchen a modern facelift, and to update our dining room and bathrooms. We knew we could not achieve the look we wanted on our own but also had some reservations about working with a designer. Valerie Garrett, Associate ASID was referred to us by our contractor and we were soon off and running.
Read more
We found Valerie easy to work with to complete our renovations. We were so happy and pleased with the results that, in years since, we have called on Valerie to update three of our bedrooms and are now updating our family room. Valerie's designs are built around the function of the room and make it warm and inviting. Our friends have commented on how each room complements another through the flow of color and design. They have also said the interior of our home looks like something out of a magazine!
Valerie has become not only our designer, but our friend, as she strives to know her clients – their likes and their dislikes. She works diligently to make sure you are pleased with the final result.
One of the things we truly value about Valerie is that she keeps the best interest of her client foremost in her decision making – always working with honesty and integrity. She has tremendous character and exemplifies a true sense of professionalism.
Whether it is just the two of us having an evening at home, hanging with the family or entertaining with friends, we enjoy spending time in our home. Valerie has created a look in each of our rooms that we could have never done on our own.
The Doyles
Macon, GA
I have worked with Valerie Garrett, Associate ASID for 7 years, and my latest project was a bath remodel. Valerie understands me and what I am looking for. I love the tile and the new vanity, and the shower is awesome. Best of all, my husband loves it!! If you are undecided about working with this firm, come and see what she has done for me! Everyone who comes to my house comments on the design.
They always ask if I did it and, of course, I always tell them who really did!!!
Pam Sherman
Macon, GA
I do not know where I would be without Valerie Garrett Interior Design! The custom home we purchased was built in the 1980s. When we moved in 8 years ago, I tried to update it with the typical cosmetic strategies such as new paint color and wall paper, but the house still looked its age.
Read more
I had seen what she had done to her own home, so I knew Valerie's work and reputation. I finally made the decision to have her begin work on my home.
Valerie Garrett, Associate ASID recognized problem areas quickly, always paying attention to detail and providing solutions that would make a profound statement but stay within our budget. She was able to convert our kitchen into a beautiful, rich area where I love to prepare meals for my family. Our master bathroom was transformed into a place I am proud to show instead of wanting to close the door.
From the outside to the inside, Valerie brought this house to life, and friends and visitors are amazed at what has been done.
We are now relocating out of state due to a recent job change, but I believe the renovations helped us sell our home more quickly. We have received many compliments on the transformation she created. Our home is now beautifully done and updated to today's style, and is a comfortable respite after a day's work. We love it!!
Ravonda Bargeron
Macon, GA
Valerie is a true professional. She knows her area of expertise. Her warmth and personality feels like you are spending time with a friend. I have recommended her services to many.
Dr. Joanne Kennedy & Dr. Bill Schroeder

Macon, GA
Valerie Garrett, Associate ASID has done a fabulous job! Our home is not only beautiful but a reflection of me and my family. She designed with our taste and likes woven through every room.
In the past, I had worked with some other designers and would stop half-way. I have now worked with Valerie for over 6 years. During that time she has completed all of our main living spaces including an extensive kitchen renovation and a master bedroom design and bath remodel.
Read more
With her experience, training, and team of the right people, she made sure everything ran smoothly, keeping tabs on contractors and handling any problem that would arise.
I believe having a good designer like Valerie is a necessity rather than an indulgence. We avoided costly mistakes, had a smooth process on every project, and we love the results. Valerie helped us make great choices that we will enjoy for years to come, and it has been well worth the investment.
I have highly recommended her to others who have been just as thrilled with their results.
.
The Davidsons
Macon, GA
In 2003, I was quite overwhelmed and stressed out when we remodeled our kitchen and two downstairs bathrooms without a designer to help with the many decisions that have to be made. For our 2nd major project – a master bedroom and bath remodel, along with two other upstairs bathrooms – we knew we would use a designer and we turned to Valerie Garrett Interior Design.
Read more
My husband and I were really impressed with Valerie's attention to detail which was evident by the meticulous way she helped us make every decision of this project. She actually made our major remodel fun and exciting, and we could feel how important it was to her that we absolutely love our remodeled space. And… we are thoroughly delighted!! Valerie has transformed our 3 bathrooms and master bedroom into a fabulous living space, and we love to hear all the positive comments from friends and family. Our favorite is "it's just like having a new house" – and they are so right. My husband even says he feels as if he's stepped into a 5 Star hotel or a luxury spa every time he goes into our master bathroom.
With Valerie's level of talent and extensive knowledge, and with the assistance of a contractor that really helped move this project along quickly, we knew we would not have the same mistakes as in our first remodel. Valerie made sure to keep the pace moving forward and that progress was never slowed down by working ahead of the contractor. Since we had Valerie Garrett, Associate ASID working with us on this project, I was definitely stress-free. It is so rare to find someone with her level of organization, dedication and enthusiasm.
I will never do any project in my home again without Valerie!!! In fact, we're working on another one now…
The Voorthuysens
Peachtree City, GA
We were very impressed when we visited a home re-designed by Valerie Garrett, Associate ASID. We were most struck by her impeccable taste, sense of scale, and skillful use of color. In the market ourselves for a kitchen and powder room remodel, we were pretty excited. Still, we did have some questions. Would Valerie be able to work the same magic in our smaller home, and with a much smaller budget? Would she be willing and able to adapt to our more contemporary sensibilities? After a consultation, during which Valerie presented us with a realistic budget and several very appealing ideas, we decided to take the leap. We are here to tell you that it was the smartest decision we ever made!
Read more
In just a few short months, we had ourselves a very stylish and user-friendly kitchen and a powder room that is an absolute knock-out. Valerie saved us time and money, and rescued us from numerous silly mistakes. She listened to us and interpreted our style with a sophistication and practicality we would never have been able to achieve ourselves. Our kitchen is a joy to cook in and cleanup is so easy! The clean lines and airy atmosphere are perfect for our lifestyle, and we are so proud to entertain our family and friends in our new space!
Valerie Garrett is one very talented lady, but she is so much more! She is intrepidly patient, supremely organized, and tirelessly hardworking. She was always on time and never once avoided the long trip up to Peachtree City. She was genius at rallying workmen without ever seeming bossy or unkind. We feel that we now not only have a beautiful new living space, but have also acquired a dear, new friend!
Valerie is now working with us to make our living room and dining room as lovely as our kitchen and powder room. As I sit in my newly furnished (a la Valerie!) family room, I look through the kitchen and beyond to the dining room, and I feel that all is right with the world!
The Wilsons
Macon, GA
We started working with Valerie Garrett, Associate ASID about 4 ½ years ago after interviewing two other designers in town. It is definitely one of the best decisions we have made. Valerie has many leading qualities as a designer. She is very personable and easy to talk with; she values relationships with her clients as well as other people with whom she is involved; and, she never treats you like just another paying customer. Valerie has unique ideas and likes to try new things. She doesn't repeat ideas in the homes of other clients. She discovers what you like and dislike and then creates a design plan that is tailor-made for you.
Read more
One of Valerie's great qualities is that she is honorable and has your best interest at heart. If something is not right, she will make sure it gets handled immediately. Her clients' satisfaction is always foremost to her.
If we had not hired Valerie Garrett, Associate ASID to be our designer there is no telling what our house would look like today. She has created a home that is so beautiful, inviting, and relaxing – something we look forward to coming home to. Thanks to Valerie, it is "simply elegant."